Montana
MONTANA TO SIEWNIK PNEUMATYCZNY DO WYSIEWU NASION ZBÓŻ, RZEPAKU, SOI, ZIÓŁ ORAZ INNYCH DROBNYCH NASION.
---
MONTANA to siewnik pneumatyczny do wysiewu nasion zbóż, rzepaku, soi, ziół oraz innych drobnych nasion.
Jest on wyposażony w 4 dozowniki służące do precyzyjnego dozowania nasion oraz w 4 rozdzielacze służące do ich równomiernego rozdziału na wszystkie rzędy.
Dzięki przekładni bezstopniowej zanurzonej w kąpieli olejowej regulacja ilości wysiewanych nasion jest zawsze precyzyjna i szybka.
Duża skrzynia nasienna z solidnym podestem załadunkowym o dużych wymiarach, zapewnia wysoką autonomię wysiewu i doskonałą dostępność.
Siewnik zbożowy MONTANA jest dostępny w opcji z trzypunktowym układem zawieszenia lub ciąganej, w wersjach 400, 450, 500, 600, które odpowiadają szerokościom roboczym w zakresie od 4m do 6m. Dla wszystkich wersji dostępne są następujące konfiguracje: tylko nasiona (MONTANA), nasiona/ nawóz oraz nasiona (MONTANA F).
Wniosek o udzielenie informacji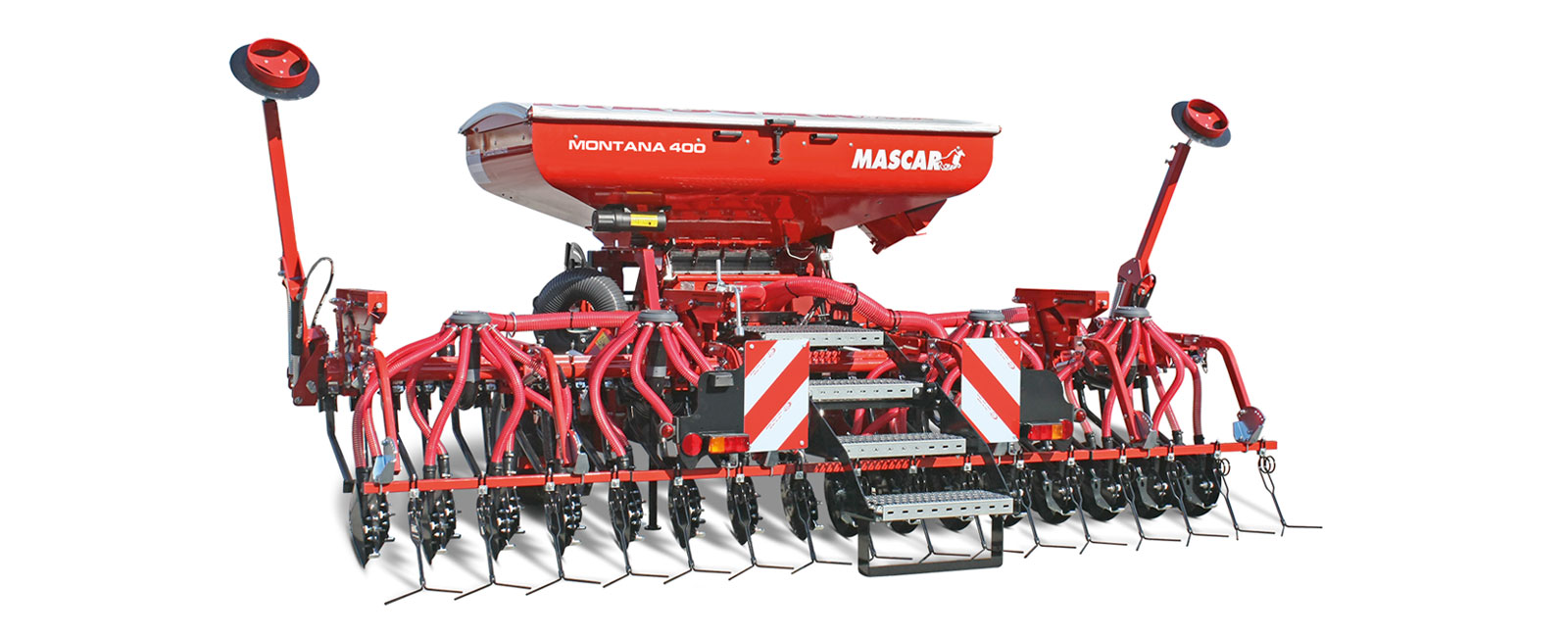 Technical characteristics
UM
Montana 400
Montana 450
Montana 500
Montana 600
Working width
Mt
4,0
4,5
5,0
6,0
Transport width
Mt
2,55
2,55
2,55
2,55
Rows number
32
36
40
48
Rows distance
12,5
12,5
12,5
12,5
Coulter type
suffolk/
simple disc/
double disc/
suffolk/
simple disc/
double disc/
suffolk/
simple disc/
double disc/
suffolk/
simple disc/
double disc/
Hopper capacity
 Lt
1100 + 500
1100 + 500
1100 + 500
1100 + 500
P.T.O. shaft
RPM
540 (1000 opt)
540 (1000 opt)
540 (1000 opt)
540 (1000 opt)
Transmission wheels
26.00-12
26.00-12
26.00-12
26.00-12
Elements pressure regulation
centralized with
crank / hydraulic (optional)
centralized with
crank / hydraulic (optional)
centralized with
crank / hydraulic (optional)
centralized with
crank / hydraulic (optional)
Hydraulic marker
Standard
Standard
Standard
Standard
Rear cover seed harrow
Standard
Standard
Standard
Standard
Lights kit
Standard
Standard
Standard
Standard
Weight
Kg
1.284
1.320
1.358
1.452
Power required
(hp/kW)
70-80 (52-60)
70-80 (52-60)
80-90 (60-67)
90-110 (67-82)