Montana
PNEUMATIC SEED DRILL FOR CEREALS, RAPE, SOYA BEANS, ALFALFA AND FINE SEEDS
---
MONTANA is a pneumatic seed drill for cereals, rapeseeds, soybeans, herbs and small seeds.
It is equipped with 4 dosing units for a perfect dosage of seeds quantities and with 4 diffuser for a uniform distribution of seeds on all rows.
Thanks to the oil immersed gearbox with continuous transmission the adjusting the amount of seeds will be always accurate and fast.
The large hopper, equipped with a strong platform of large dimensions, ensures high autonomy and exceptional accessibility.
MONTANA is available three-point linkage or trailed, in the 400, 450, 500, 600 versions which correspond to sowing widths from 4 up to 6 mt. For all versions, the following configurations are available: only seed (MONTANA), seed/fertilizer and seed (MONTANA F).
Request more information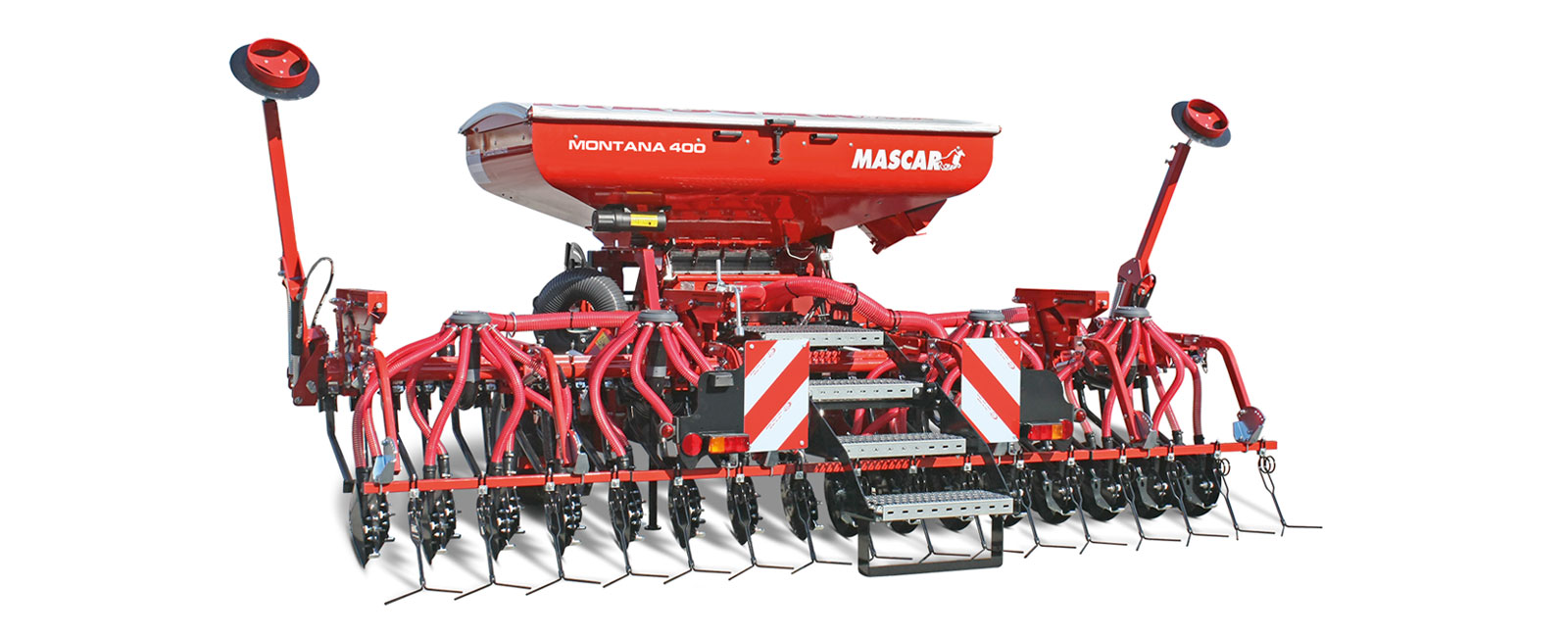 Technical characteristics
UM
Montana 400
Montana 450
Montana 500
Montana 600
Working width
Mt
4,0
4,5
5,0
6,0
Transport width
Mt
2,55
2,55
2,55
2,55
Rows number
32
36
40
48
Rows distance
12,5
12,5
12,5
12,5
Coulter type
suffolk/
simple disc/
double disc/
suffolk/
simple disc/
double disc/
suffolk/
simple disc/
double disc/
suffolk/
simple disc/
double disc/
Hopper capacity
 Lt
1100 + 500
1100 + 500
1100 + 500
1100 + 500
P.T.O. shaft
RPM
540 (1000 opt)
540 (1000 opt)
540 (1000 opt)
540 (1000 opt)
Transmission wheels
26.00-12
26.00-12
26.00-12
26.00-12
Elements pressure regulation
centralized with
crank / hydraulic (optional)
centralized with
crank / hydraulic (optional)
centralized with
crank / hydraulic (optional)
centralized with
crank / hydraulic (optional)
Hydraulic marker
Standard
Standard
Standard
Standard
Rear cover seed harrow
Standard
Standard
Standard
Standard
Lights kit
Standard
Standard
Standard
Standard
Weight
Kg
1.284
1.320
1.358
1.452
Power required
(hp/kW)
70-80 (52-60)
70-80 (52-60)
80-90 (60-67)
90-110 (67-82)