Florida – Florida Combi
MECHANICAL SEED DRILL FOR CEREALS AND SMALL SEEDS
---
FLORIDA is a mechanical seed drill for cereals and small seeds designed to be combined with an harrow
It is equipped with a big dimension tank for the better operating range.
The machine has a continuous oil immersed gearbox for a precise and fast seed quantity regulation.
The volume grooved batchers guarantee a regular seed division for all the rows and uniform distribution even if operating in areas with steep slopes.
The machine is available with suffolk coulters, single disc and double discs coulters.
Request more information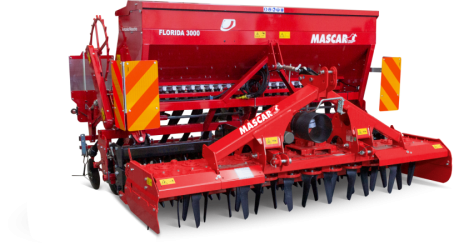 Technical data
UM
FLORIDA 250
FLORIDA 300
FLORIDA COMBI 2500
FLORIDA COMBI 3000
Working width
Mt
2,5
3,0
2,5
3,0
Transport width
Mt
2,55
3,00
2,55
3,00
Row number
17 to 21
19 to 25
17 to 21
19 to 25
Row distance
14,7 to 12
15,8 to 12
14,7 to 12
15,8 to 12
Coulter type
suffolk coulter / simple disc coulter / double disc coulter
Hopper capacity
Lt
490
610
490
610
Hopper extension (opt)
Lt
250
285
250
285
P.T.O. shaft
RPM
540
540
540 (1.000 opt)
540 (1.000 opt)
Power required
 kW (hp)
 –
–
52(70) to 126(170)
52(70) to 126(170)
Power harrow
–
–
packer roller Ø 480
Hydraulic distributors
0 to 3
0 to 3
0 to 3
0 to 3
Coulters pressure regulation
Centralized with crank
Hydraulic row marker
Optional
Rear cover seed harrow
Standard
Lights kit
Standard
Empty weight (suffolk version)
kg
755
820
1770
1970