Tuareg
Tuareg 525 - Tuareg 555
FIXED CHAMBER ROUND BALER WITH ROLLERS AND BARS
---
Professionalism, speed and performances
The Tuareg series is a baler for cylindrical bales with fixed chamber and a chain/bars mixed with rollers system, equipped with excellent technological solutions. It combines the reliability with high performance, thanks also to the rotary feeder system, suitable for the clients who desires productivity and quality together. Tuareg is the ideal multiuse solution for each product type.
High working capacity and small dimensions
The Tuareg series offers technical solutions and additional equipment for any necessity so that the productivity and the working quality are combined at best assuring always the maximum reliability.
Bale formation process
The management of the bale formation process is to have control of proper density and binding ensuring maximum final product quality by optimizing the production costs. The mechanical combined with the technology of balers Tuareg and Tuareg Cut offer these services.
Request more information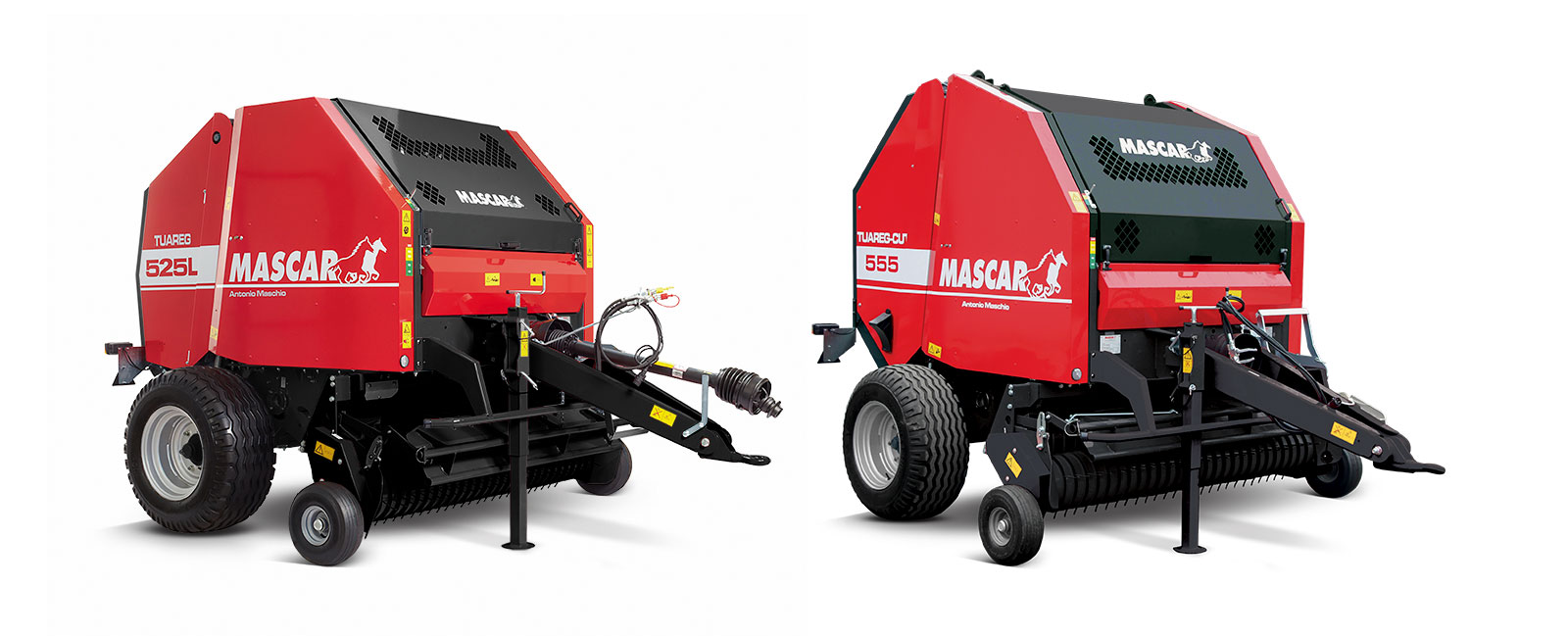 Technical characteristics
UM
TUAREG 525 | 555
TUAREG 525 CUT| 555 CUT
Chamber
Fix
Fix
Bale dimension
cm
120 x 125 | 120 x 155
120 x 125 | 120 x 155
Bale winding
Rollers + Chains
Rollers + Chains
Rollers number
6 | 7
6 | 7
Bars number
22 | 28
22 | 28
Rpm from P.T.O.
RPM
540
540
Cutting system (knives)
n.
/
14
Cutting length
cm
/
7,5
Power requirements
 kW(hp)
47(65) | 63(85)
59(80) | 74(100)
Pickup width
cm
200
200
Pickup width (DIN 11220)
cm
172
172
Bars tine each bar
4/23
4/23
Pickup width L version
cm
225
225
Pickup width (DIN 11220) L version
cm
200
200
Bars tine each bar L version
4/29
4/29
Adjustment bale density
Mechanic 3 positions
Mechanic 3 positions
Double twine and/or net binding
Standard
Standard
Automatic binding
Optional
Optional
Ladder
Standard
Standard
Lights installation
Standard
Standard
Automatic chains lubrication
Standard
Standard
Standard tyres
11.5/80-15
11.5/80-15
Optional tyres
15.0/55-17 o 19.0/45-17
15.0/55-17 o 19.0/45-17
Comb-feeder
Rotary
Rotary
P.T.O shaft
Wide angle cam type
overload clutch
Wide angle cam type
overload clutch
Bales counter
Mechanical
Mechanical
Electric supply
12 V
12 V
Hydraulic requirements
2xSA
2xSA
Draw-bar
Adjustable
Adjustable
Overall dimensions
Width
cm
230
230
Height
cm
217 | 240
217 | 240
Length
cm
350 | 380
350 | 380
Empty weight
kg
2450 | 2700
2550 | 2800
TUAREG CUT 525L
TUAREG CUT 555L