Corsa
Corsa 420 - Corsa 450
FIXED CHAMBER ROUND BALER WITH BARS
---
Reliability, simplicity and low cost of maintenance
The Mascar Corsa series is a baler for cylindrical bales with fixed chamber and a chain/bars system, ideal for any type of the product, from those dry to green.
Robust, simple, reliable and with contained dimensions, it assures low management costs and excellent performance in the difficult conditions.
The Mascar Corsa series could be equipped with a range of the accessories that can be modulated in order to fit this machine to any situation, maximum versatility for companies of any dimension.
Request more information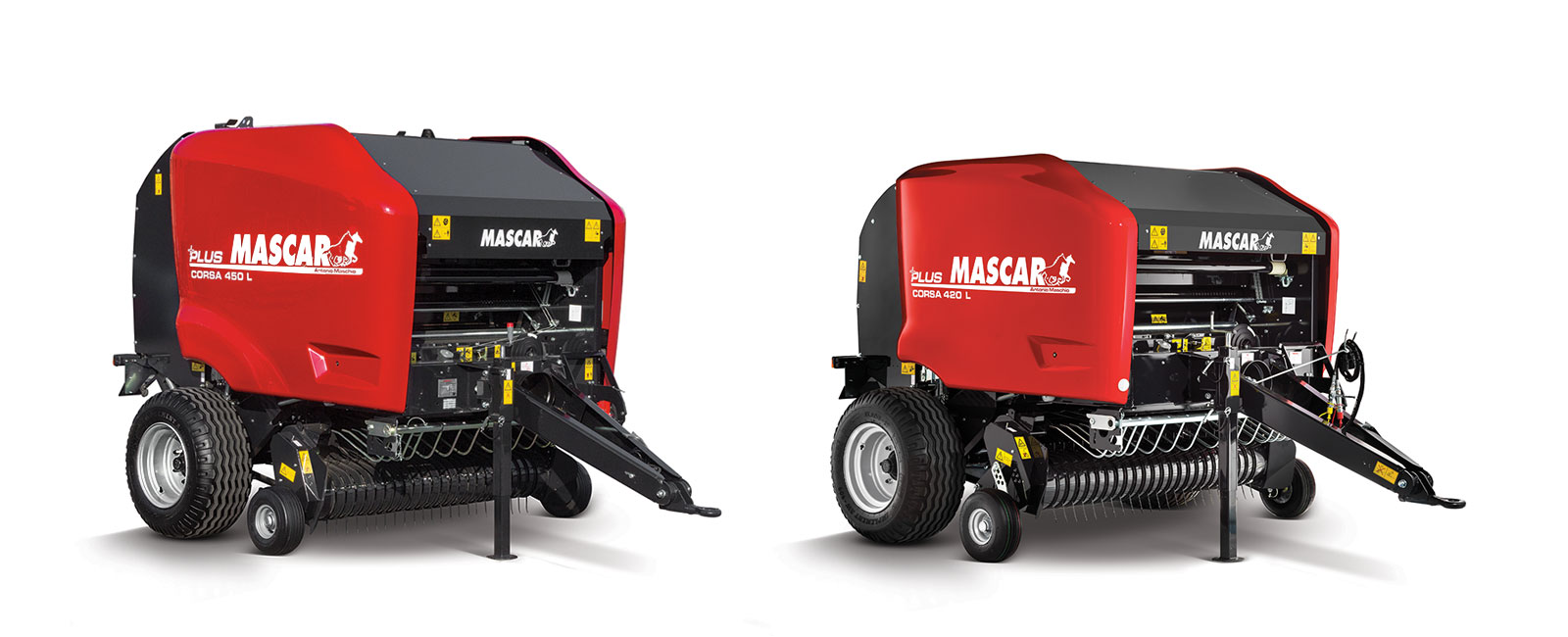 | | | | |
| --- | --- | --- | --- |
| Technical specifications | UM | CORSA 420 | 420 L | CORSA 450 | 450 L |
| Chamber | | Fix | Fix |
| Bale dimension | cm | 120 x 120 | 120 x 150 |
| Bale winding | | Bars | Bars |
| Bars number | | 34 | 41 |
| P.T.O. | RPM | 540 | 540 |
| Power requirements | kW(hp) | 30(40) | 37(50) |
| Pickup width | cm | 170 | 200 | 170 | 200 |
| Pickup width (DIN 11220) | cm | 144 | 172 | 144 | 172 |
| Bars teeth-holder each bar | | 4/19 | 4/23 | 4/19 | 4/23 |
| Adjustment bale density | | Mechanic a 3 positions | Mechanic 3 positions |
| Double twine and/or net binding | | Standard | Standard |
| Automatic binding | | Optional | Optional |
| Lights installation | | Standard | Standard |
| Automatic chains lubrication | | Optional | Optional |
| Standard tyres | | 10.0/75-15 | 11.5/80-15 | 11.5/80-15 |
| Optional tyres | | 11.5/80-15 o 15.0/55-17 | 15.0/55-17 |
| Comb-feeder | | Alternative | Alternative |
| P.T.O shaft | | With safety bolt | With safety bolt |
| Bales counter | | Mechanical | Mechanical |
| Electric supply | | 12 V | 12 V |
| Hydraulic requirements | | 2xSA | 2xSA |
| Draw-bar | | Adjustable | Adjustable |
| Overall dimensions | | | |
| Width | cm | 217 – 244 | 232 – 244 | 230 |
| Height | cm | 201 | 230 |
| Length | cm | 359 – 384 | 390 |
| Empty weight | kg | 2020 | 2070 | 2200 | 2250 |