TF1100 – TF1600
ELECTRONIC CONTROL FRONT TANKS
---
High capacity front tanks for fertilizer and seed
High capacity front tanks for fertilizer and seed, equipped with 4 distributors for a perfect quantities distribution, controlled by a volumetric doser.
The tank has been studied in the weights and in the overhangs to guarantee an ideal balancing during the work. The frontal load of the equipment compensates the weight of the seeder: the result is the minimum trampling of the ground.
The shape of the tank and the height of the attachment to the lift have been designed to optimize the operator visibility on board the tractor both in the field during working operations and on road.
Allows easy transformation from fertilizer to seed.
Standard features:
1.100 L (TF1100) and 1.600 L (TF1600) tanks capacity
VRT control monitor
Detection of working speed by GPS antenna
Available with standard hydraulic fan or with hydraulic fan equipped with independent tank
Quick adjustment of fertilizer quantity per hectare through the monitor in the tractor cab
Integrated Prestart and Prestop system
Quick product change: suitable for fertilizers of different size, for small and thick seeds
Sowing up to a width of 6 meters
Headlights and direction indicators as standard
Blower operated by the tractor's hydraulic distributor
Easy platform for quick emptying and cleaning
Request more information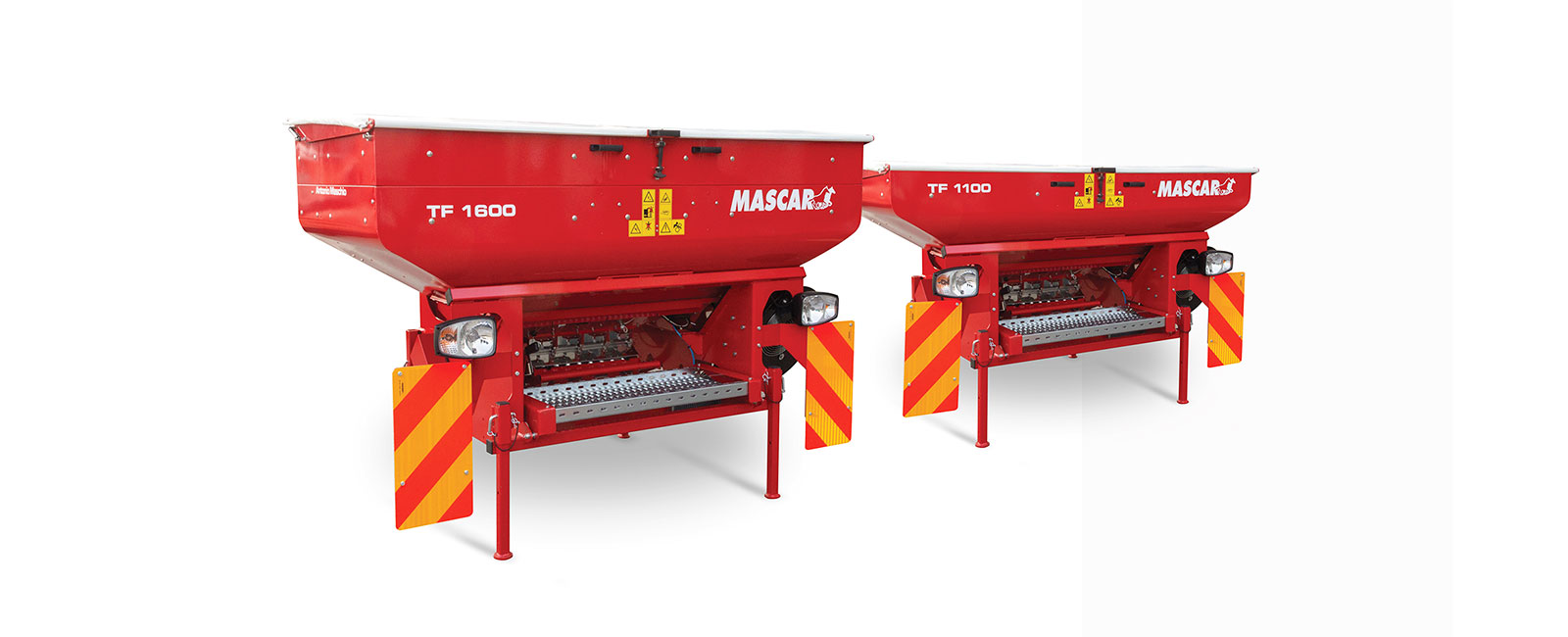 Technical data
UM
TF1100 TD
TF1600 TD
TF1100 TI
TF1600 TI
Tank capacity
L
1100
1600
1100
1600
Tractor connection
3 point hitch II° cat.
Blower drive
dependent by
tractor hydraulic distributor
independent
Distributor operation
electric
Control monitor VRT
standard
ISOBUS
optional
Oil cooling radiator
optional
standard
Conversion kit from fertilizer to seed
optional
Fertilizer elements
optional
Parking jacks
standard
Inspection platform
standard
Lights kit
standard
Protruding load panels
optional
Overall dimensions
Width
cm
229
Depth
cm
143
Working height
cm
151
172
151
172
Empty weight
 kg
695
740
775
820
Mascar Multiflex seeder and TF1600 front fertilizer tank