Monster
VARIABLE CHAMBER ROUND BALER WITH BELTS
---
Technical features designed for every need and top performance
Its technical characteristics have been studied in order to fulfill every need granting at the same time top performance joint with a "new generation" design. These features make the Monster able to face any productivity challenge.
Professionalism, speed and performance
The Mascar Monster comes up from the experience of who builds roundbalers since many years, designed for the most demanding clients. Quality, high productivity and reliability are the main characteristics of Monster. The variable chamber allows to satisfy any requirement, from a farm to contractor.
Fast and efficient binding
An efficient binding system enables to optimize both working time and quality. The bales which are perfectly binded make easier loading and storage procedures.
Easy and functional operations control and management
The remote control unit fitted with a multicolor screen enables the complete control of all the baling and binding operations, keeping anyway reduced dimensions therefore avoiding wastes of space and granting an optimal all-around vision for the operator.
Request more information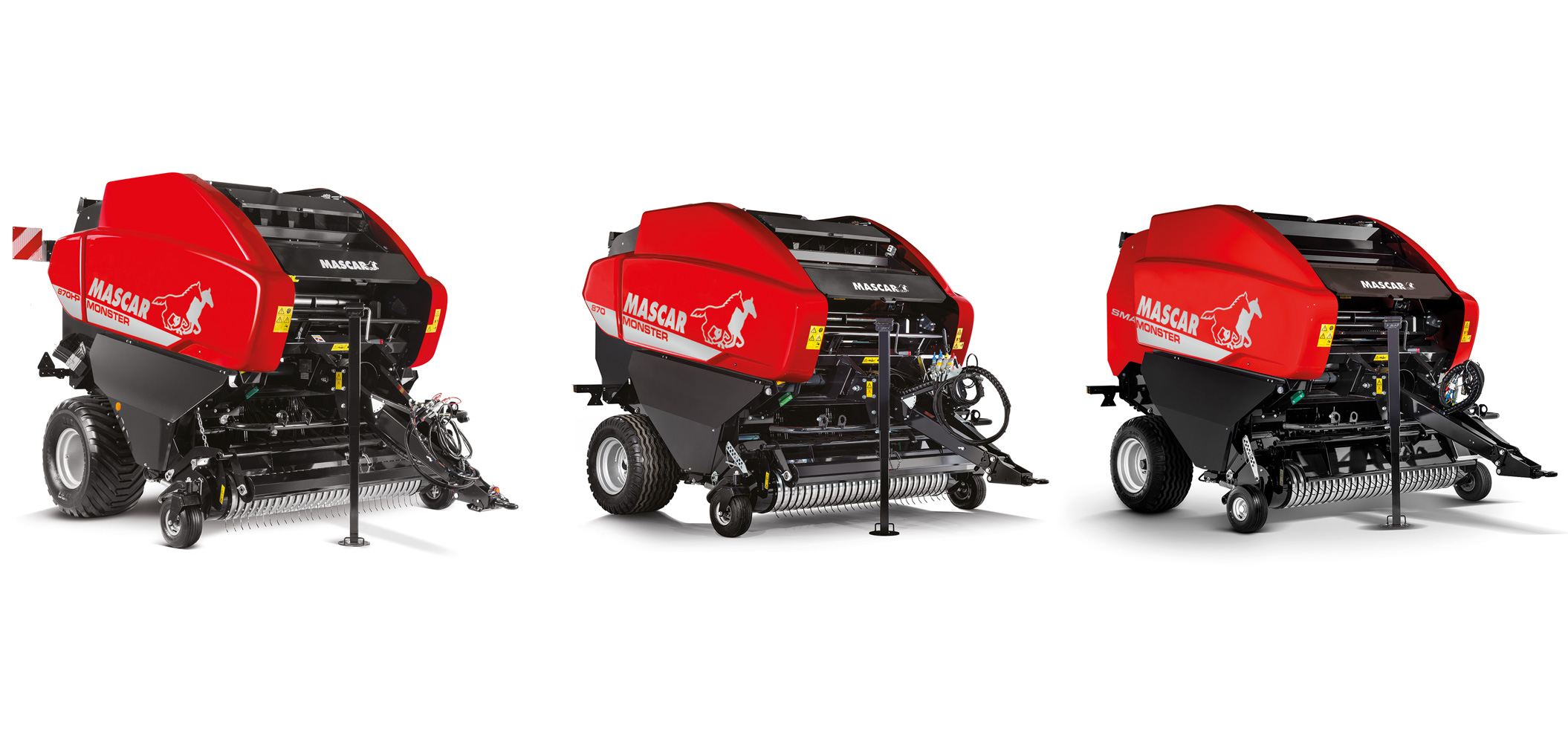 Technical characteristics
UM
MONSTER
870 SMART
MONSTER
870 / 870 XL
MONSTER 870
EASYCUT / XL EASYCUT
MONSTER 870
CUT / XL CUT
MONSTER
870 HP
MONSTER
870 HP CUT
Chamber
Variable
Bale dimension
cm
120×80 a 170
Bale winding
5 belts
3 endless belts
3 endless belts
3 endless belts
3 MRT belts
3 MRT belts
P.T.O.
RPM
540
Cutting system (knives)
n.
/
/
7 (0/4/7)
/
15(0/7/15)
 15(0/7/15)
Cutting length
cm
/
/
14
/
7
 7
Power requirements
kW(hp)
59(80)
59(80)
59(80)
XL 74(100)
 74(100)
59(80)
 74(100)
Pickup width
cm
210
210
210
225
225
225
Pickup width (DIN 11220)
cm
200
200
XL 213
200
XL 213
200
XL 213
213
213
Bars tine/each bar
n.
4/28
4/28
XL 4/30
4/28
XL 4/30
4/28
XL 4/30
4/30
4/30
Tine pitch
mm
65
65
65
65
65
65
Crop compression roller
Optional
Standard
Standard
Standard
Standard
Standard
Pivoting pickup wheels
Optional
Net binding
Standard
Twine binding
Optional
Optional
Optional
Optional
/
/
Light system
Standard
LED Light system
Optional
Optional
Optional
Optional
Standard
Standard
Automatic chains lubrication
Standard
Centralized greasing system
/
Standard
Standard
Standard
Standard
Standard
Standard tyres
15.0/55-17
15.0/55-17
15.0/55-17
15.0/55-17
19.0/45-17
19.0/45-17
Optional tyres
19.0/45-17
19.0/45-17
19.0/45-17
19.0/45-17
/
/
Optional tyres
500/50-17
500/50-17
500/50-17
500/50-17
500/50-17
500/50-17
Drop floor
Standard
Comb-feeder
Rotary
Rotary
Rotary with cutting system
Rotary with cutting system
Rotary
Rotary with cutting system
Homokinetic P.T.O. shaft with shear bolt
Standard
/
/
/
/
/
Homokinetic P.T.O. shaft with automatic torque limited
Optional
Standard
Standard
Standard
Standard
Standard
Electric supply
12 V – 30 A
12 V – 30 A
12 V – 30 A
12 V – 30 A
12 V – 30 A
12 V – 30 A
Electronic control
Standard
M700 Unit control
Standard
Hydraulic tractor requirements
2xDA
Pneumatic brakes
Optional
Telescopic bale ejector
Optional
Loading signals
Optional
Fix DIN Towing eye
Optional
Adjustable 

height drawbar

cm
min 38 – max 110
Overall dimensioni
Width (with tyres)
cm
239 (250-263)
239 (250-263)
239 (250-263)
239 (250-263)
250(260)
250(260)
Height
cm
min 266 – max 270
Lenght
cm
455
Empty weight
kg
3120
3180
XL 3560
3630
XL 3670
3630
XL 3670
3560
3670
Monster 770 CUT
Monster 770
Monster 770
Monster 770 CUT PLUS XL at EIMA SHOW