Maxi-5
PRECISION PLANTERS WITH DOUBLE DISC COULTER
---
With MAXI-5 the evolution of the MAXI element continues
The strong structure, the high distributor and the double opening disc grant productivity and precision with all types of seeds used in the various soil surfaces, even with subsidence and crop residues.
Suitable for planting both on a ploughed field and on a ground with minimum preparation only.
It permits to maintain the preset seeding depth.
The transmission by chain is a further warranty of reliability and uniformity of the seeds distribution on the row.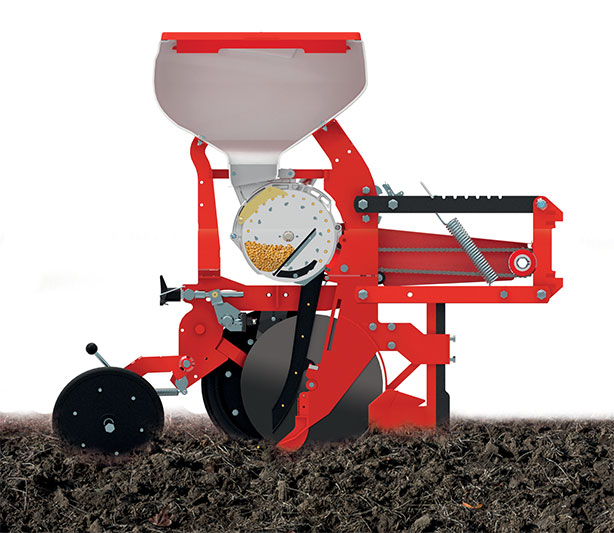 Precision planters drill with variable inter-row distance
The MAXI-5 seeding element can be installed on the variable inter-row frames FLEX-EVO and MULTIFLEX.
These allow the inter-rows hydraulic modulation to obtaining the undisputed advantage sow more crops with a single machine.
Request more information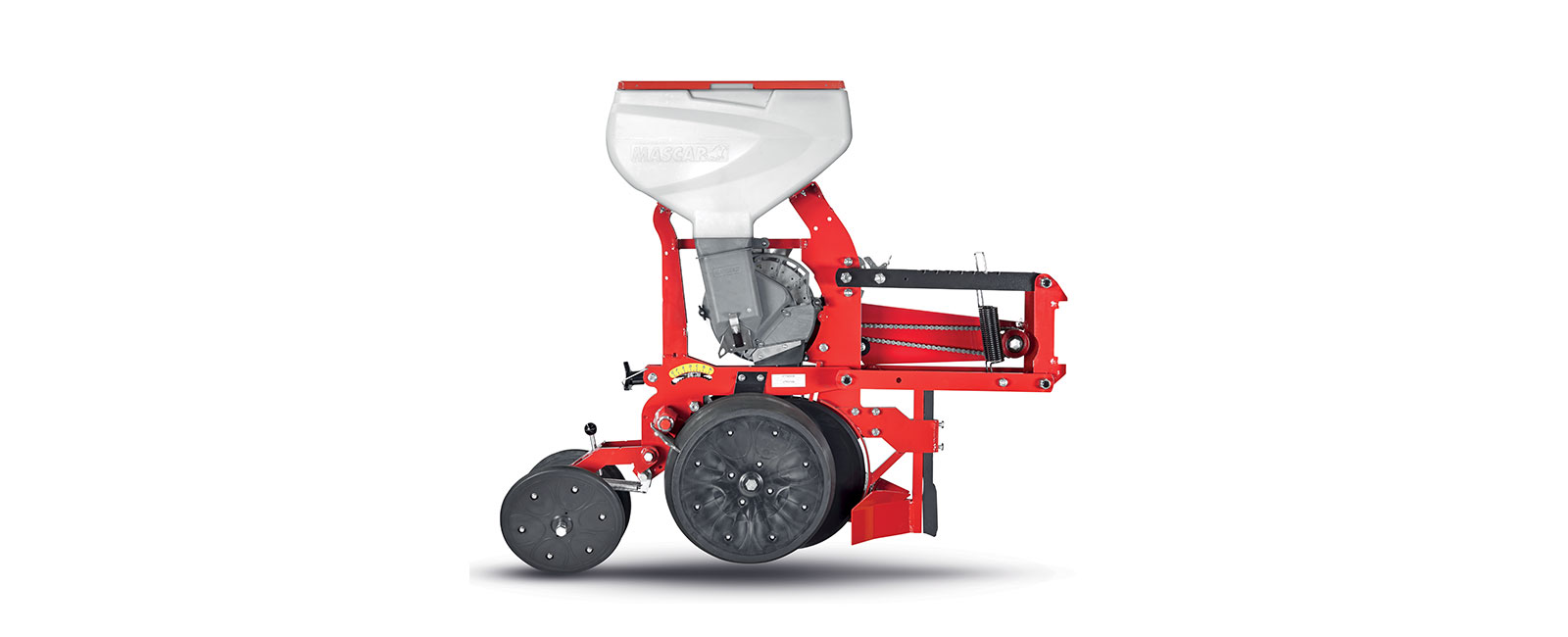 Technical characteristics
UM
Fixed
Flex 6
Flex 7
Flex 8
Simple telescopic
Double telescopic
Folding
Carried wide
Working width
m
3.0
4.5
6.0
2.70-4.5
3,15-5,25
3,60-6,0
4.5
4.5
6.0
9.0
Transport
m
2.6
4.1
5.6
2,55
3,2
3,0
3.25
3.0
3.0
3.0
n° maize row
4
6
8
6
7
8
6
6
8
12
n° sugar beet row
6
–
12
–
–
–
–
–
12
18
Row distance maize
cm
70/75/80
70/75/80
70/75/80
45-75
45-75
45-75
70/75/80
70/75/80
70/75/80
70/75/80
Row distance sugar beet
cm
45
–
45
45-75
45-75
45-75
–
–
45
45
Whirl
P.T.O. 540 rpm/min (standard) – 1000 rpm/min (optional)
Tyres
2×5.0-15
2×6.5-15
4×6.5-15
20×8.0-10
20×8.0-10
20×8.0-10
20×6.5-15
20×6.5-15
4×6.5-15
8×6.5-15
Gear box
1
1
2
1
1
1
1
1
3
2
Hydraulic row markes
standard
standard
standard
standard
standard
standard
standard
standard
standard
standard
Fertilizer
2×227 L optional
2×290 L optional
4×227 L optional
standard
standard
standard
2×290 L o 1×960 L optional
2×227 L optional
–
4×290 L
Fertilizer big capacity
1×750 L
1x960L
2x960L
1×750 L
1x960L
1×960 L
1×960 L
–
2×960 L
Loading auger
–
–
–
–
–
–
optional
optional
–
–
Microgranulator
optional
optional
optional
optional
optional
optional
optional
optional
optional
optional
Hectares counter
optional
optional
optional
optional
optional
optional
optional
optional
optional
optional
Row exclusion
standard
standard
standard
standard
standard
standard
standard
standard
standard
standard
Lights kit
optional
optional
optional
standard
standard
standard
optional
optional
optional
optional
Transport trolley
–
–
optional
–
–
–
–
–
–
standard
Weight maize planter
kg
810
1030
1700
1210
1460
1670
1090
1140
1800
3260
Weight sugar beet planter
kg
990
–
2010
–
–
–
–
–
2230
–