New fixed chamber round baler Mascar Corsa 420
The round baler of the lucky Corsa series is continuously under restyling combining reliability, low power absorption and extreme operational versatility.
---
We are proud to introduce the Mascar Corsa 420, new in design but faithful to the proverbial technical reliability that has always characterized the Corsa series.
It's afixed chamber round baler, with a pressing system with bars, realized to be used with low power tractors.
The Mascar Corsa 420 is extremely versatile and even more efficient than the previous model thanks to the new technical solutions adopted to minimize maintenance costs.
The extreme simplicity and the mnufacturing quality make it a strong and reliable fixed chamber round baler. Its compact dimensions and low weight allows it to work in small spaces and on sloping grounds.
The pick-up is available from 170 cm to 200 cm (for L versions) which maintains a constant collection of the product, carefully conveyed from the feed rotor to the press chamber, which has been updated to reduce loss of product.
The tested chain and bars of the dragging system ensures immediate activation of the rotation and allows to achieve optimum pressure balances whether it is silage, straw or hay.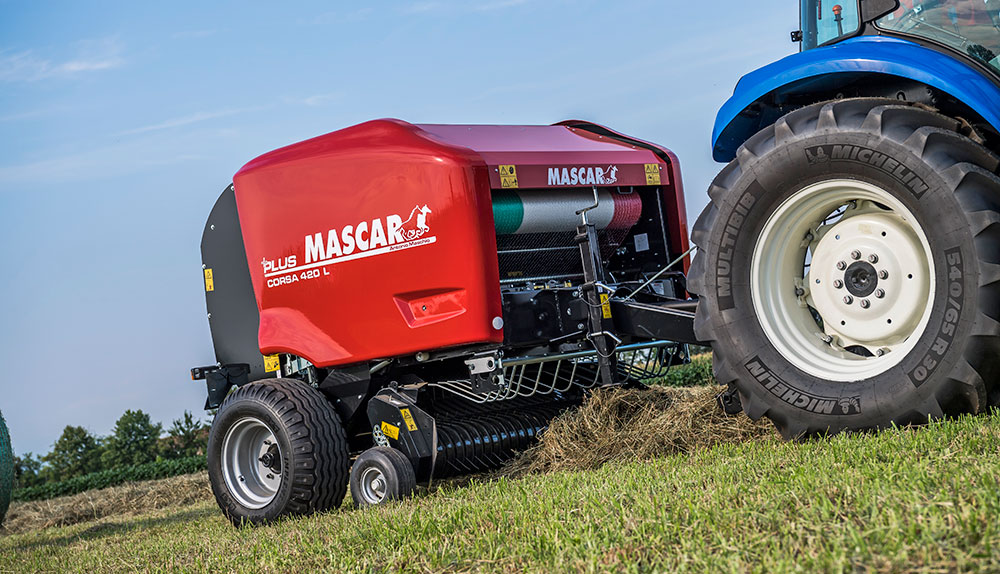 The fixed chamber round baler Corsa 420 can be equipped of twine or net binding system, or both of them with a designated area for reels, easy to be reached and changed by the operator. In any way the bale wrapping will be optimal.
You can customize the round baler with the optional more suitable to your needs.
There are 3 different electronic control units available, you can choose fixed or adjustable, rubber or iron pickup wheels, and you can also adapt the Corsa 420 to face with any type of ground choosing among 3 different sizes of available tires.
At the link www.mascar.it/corsa/ you can read more technical data, download brochure or simply take a look at the photo gallery.