CUT.25: 25 knives cutting system
For fixed chamber round balers
---
At the end of 2018, we introduced the new cutting system with 25 knives available for Diavel 630 and Diavel 630 Multiwrap.
Nowadays everyone is aware of how important it is to stock a well prepared fodder to guarantee the best possible feeding to the animals, as this positively reflects on the health and productivity of the livestock.
It is important to underline another concept: an adequately cut fodder allows, in the mixing phase, a considerable saving in terms of time and costs.
To meet these needs, we have introduce the new "CUT.25" cutting system that will complement the traditional 15-knife system, but "CUT.25" is available only for the fixed chamber Diavel 630 and Diavel 630 Multiwrap.
The innovative cutting unit is equipped with 25 knives that ensure a net and constant shredding with a theoretical cutting length of 42 mm, regardless of the type of product harvested.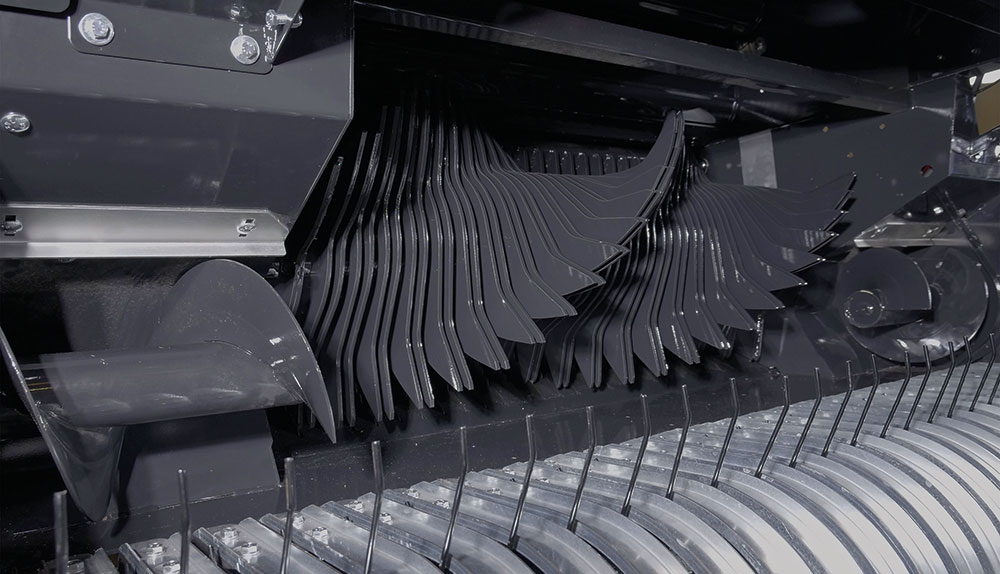 In this way, we will have bales of higher density than those obtained with the standard cutting system, which will be easily broken for distribution in the stable.
The pick-up with large lateral augers supported by the spiral cutting rotor equipped with three rows of high-strength steel teeth, ensure a continuous supply of the material in the pressing chamber with minimal losses.
Acting on the computer placed in the tractor cab it is possible to configure the round baler to use all 25 knives, or only 12 can be used in order to obtain a greater cutting length of the product.
The cutting system could be completely exclude in case of necessity.