New Montana 600 pneumatic seed drill
The pneumatic seed drill is now available in the 6-meter version
---
The Montana seed drill line has been recently enriched with the 600 version, with a working width of 6 m for 48 rows.
Montana is the pneumatic seed drill presented at Agritechnica 2017, which has finally sent the Oregon model into retirement.
It's a machine designed to meet the increasingly demanding needs of today's professionals who often find themselves working in difficult terrain but at the same time need to maintain high seeding rates to sow as quickly as possible.
This also depends on the recent changes in weather trends, which significantly reduce the time window for field operations.
Montana is a machine suitable for sowing wheat, barley, rape, spelled, rice, sorghum, soy, peas, alfalfa and small seeds, available in widths of 4 m, 4.5 m and 5 m, respectively Montana 400, 450 and 500, as well as the aforementioned 600.
Designed with particular attention to the materials used in order to obtain a high overall strength by containing the weights, it can be ordered in the seed version only or combined seed / fertilizer version from the 400 model.
For a precise and fast adjustment of the sowing quantities, we have equipped it as standard with a continuous oil-bath gearbox.
The large capacity hopper has been placed at the bottom to improve visibility from the tractor and for an easy access to it, also thanks to the sturdy platform.
The distributor is divided into 4 parts and therefore has 4 dispensers for a perfect quantity dosing; this configuration also avoids any delay in grounding the seed during the starting phases.
The 4 distributor heads allow a linear and homogeneous flow of the seed to minimize the dosing error over the entire working width, even in the presence of soils with steep slopes.
The sowing elements are extremely stable and therefore, even on heavy terrain, they can work accurately at excellent speeds.
Centralized element pressure regulation is standard but the hydraulically regulation system can also be ordered as an optional. The entire regulation apparatus is positioned at the top, leaving the sowing group free and thus avoiding dragging of crop residues.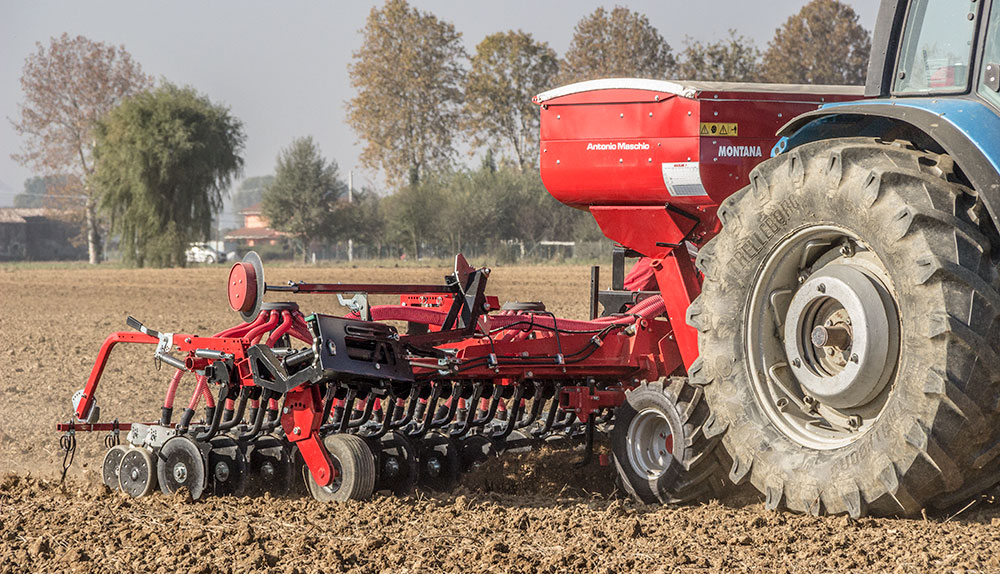 The sowing elements can be suffolk coulters, simple discs and double discs. The latter two can always be fitted with rear wheels which control the seeding depth and improve soil compaction.
At the seed version, it is possible to apply the microgranulator for fertilizer, with a specific tank inserted inside the seed hopper.
The bigger fan is standard for the 600 version and for all the combined seed / fertilizer versions; on all other configurations it can be ordered as optional because it is particularly recommended for sowing on the hills.
Hydraulic fan with or without independent oil tanks is also available, suitable for small or tracked tractors.
Montana provides the buyer with a peerless level of customization: we make optionals available to meet any working need. Among these, we remember seed control, Prestart, Tramline and the VRT system. Contact us for more information on customization possibilities.